Nunes steamrolls Cyborg to become two-division champion
No matter the controversy, and there was a mountain of it during this chaotic week – throughout Jon Jones' career, really – one constant remains: his unbridled talent.
Despite the 17-month layoff, Jones proved he's still at the apex of the sport with an all-around game that was far too much for Alexander Gustafsson in their rematch Saturday at the Forum just outside Los Angeles.
The main event of UFC 232 was a far cry from their thrilling first encounter, but it, too, ended with Jones' hand being raised after he knocked Gustafsson out in the third round following nine blows to the head from back mount. With the win, Jones regained the light heavyweight title he never lost in competition.
When they met in September 2013 at UFC 165, Jones prevailed via controversial decision. This time, there was no doubt. The knockout came at 2:02 of round three; Gustafsson never landed any strikes of consequence.
"It was always about being the champion again, it was never about the opponent," said Jones, 31. "Nothing personal. I'm just happy with my belt and for now I want to go back to the gym and improve my game."
Jones (23-1) won the first two rounds on all three scorecards. He controlled the tactical bout with measured strikes from the outside, picking and choosing his spots.
He charged in on Gustafsson (18-5) early in the third round for the first takedown of the fight. They jockeyed for position, with Jones landing several hard left elbow strikes to Gustafsson's head.
Jones skillfully grappled the Swede, and then finally made his way to his foe's back. Gustafson covered up with both hands as Jones unloaded with eight left hands, punctured by a right that forced referee Mike Beltran to intervene.
"He keeps a very high level of fighting," said Gustafsson, 31. "I was prepared for it. He just caught me this time and that's it.
"I didn't notice anything if he was stronger or faster or anything like that. He used his kicks, used his takedown. He used a really good move today and he shot me down."
Jones' victory was the culmination of a frantic fight week. The pay-per-view event was originally ticketed for T-Mobile Arena in Las Vegas. Six days out, an adverse finding in Jones' drug test was revealed; the Nevada State Athletic Commission wasn't going to license him, but California agreed to. Commissioner Andy Foster cited research from an accredited lab that Jones would hold no performance edge from the trace amounts of a longterm metabolite of oral turinabol found in his system on 9 December.
So UFC president Dana White moved the event 232 miles to the former home of the Los Angeles Lakers.
The relocation was met with mounds of criticism, but the event still was an announced sellout (15,862 in attendance) and generated a live gate of $2.06m, per White.
Jones, a native of Albuquerque, New Mexico, was accused of again trying to gain an unfair edge. He was stripped of his light heavyweight title after each of his last three fights. First, for violating the UFC's Athlete Code of Conduct policy in connection with a guilty plea for leaving the scene of an accident. The next two times: for performance-enhancing drug usage.
His last performance, a third-round KO of Daniel Cormier in July 2017 at UFC 214, was overturned; Cormier later claimed the vacant title. Cormier moved up to heavyweight and won the championship in July with a first-round knockout of Stipe Miocic.
With Cormier set to be stripped (since he's now competing at heavyweight), he instead relinquished his light heavyweight title Friday. Jones also faced off with Cormier in January 2015 at UFC 181, when "Bones" won via unanimous decision.
Cormier has openly expressed his hatred for Jones. Immediately after the victory Saturday, DC tweeted "I mean shit, he should win! Dude starts with a head start every time," a reference to Jones' history with PED use. And while Cormier has insisted he won't fight Jones a third time, White isn't so sure that's the case. "Cormier will fight anyone," he said.
White is clearly hoping for what would be a mega money third bout between the two. If it happens, Jones says it won't come at heavyweight, where Cormier reigns.
"When it comes to Daniel Cormier, he's always quiet unless he's speaking out to discredit me, my legacy, my achievements. It works against him. Fans are like 'Dude, leave Jon Jones alone for once. He already beat you. You sound so bitter.'
"The only thing I want to do is delegitimize as retaliation his claim of being light heavyweight champion. He was never the light heavyweight champion. He never beat me. This has been my era since 2011. Let me make that clear: DC is no champ champ.
"The only way he can shut me up from what I'm saying right now is to beat my ass. Simple."
Nunes dethrones Cyborg
Amanda Nunes staked her claim as the greatest female UFC fighter of all time in emphatic fashion in Saturday's co-feature bout.
She became the first woman in history to simultaneously hold two UFC championships with a shocking first-round knockout of Cris Cyborg in a wild slugfest Saturday. Nunes (17-4) already held the bantamweight title but added Cyborg's featherweight belt, too, in a battle of Brazilians.
The action lasted just 51 seconds, and featuring nothing but explosive punches from the opening bell.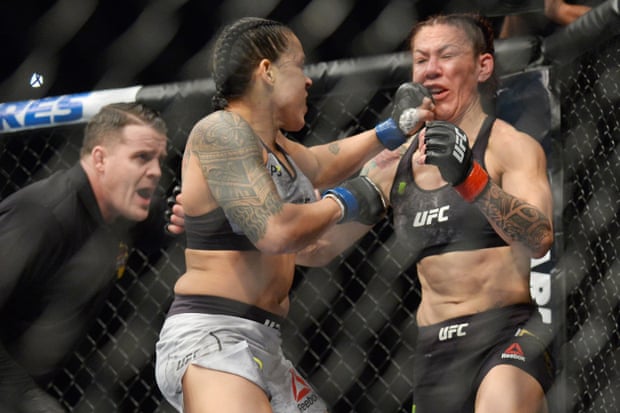 "I kept calm the whole time. I knew this was happening, I told you all," Nunes said. "I'm taking care of myself, working hard physically and mentally. I felt stronger in this division, more powerful and continued to be very fast.
"I'm the new champ champ. I said that before and now I'm just achieving this dream."
Nunes, 30, and Cyborg, 33, engaged in a firefight, and it was the woman moving up in weight who proved to be the more powerful puncher.
Nunes shook off a few flush Cyborg right hands, and countered with a four-punch combination that scored the first knockdown of the fight. Cyborg (20-2) popped right back up, but Nunes dropped her three more times with powerful overhand rights, the last of which compelled referee Marc Goddard to stop the contest.
"I'm not happy, of course," Cyborg said. "I had my heart broke, but I didn't cry and I'm not going to cry because I did everything."
Source: https://www.theguardian.com/sport/2018/dec/30/jon-jones-alexander-gustafsson-fight-report
Please follow and like us: